Reviews for Rick Hayes "Fly By Night"
Bluegrass Unlimited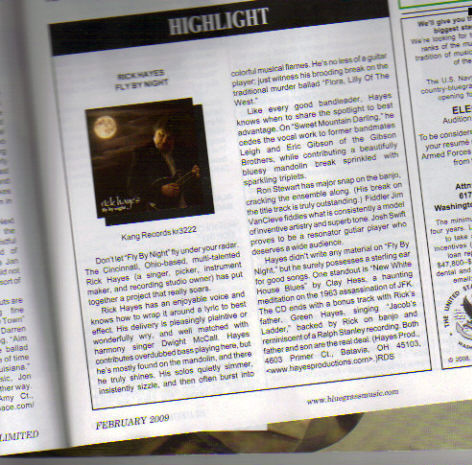 "Fly by Night" received a Highlight Review in the premier bluegrass magazine Bluegrass Unlimited. Here are some excerpts:
Don't let
"Fly By Night"
fly under your radar. The Cincinnati, Ohio-based multi-talented Rick Hayes (a singer, picker, instrument maker, and recording studio owner) has put together a project that really soars.
Rick Hayes has an enjoyable voice and knows how to wrap it around a lyric to best effect. His delivery is pleasingly plaintive or wonderfully wry, and well matched with harmony singer Dwight McCall...His solos (mandolin) quietly simmer, insistently sizzle, and then often burst into colorful musical flames...He's no less of a guitar player, just witness his brooding break on the traditional murder ballad
"Flora, Lilly of the West."
...he surely possesses a sterling ear for good songs.
The CD ends with a bonus track with Rick's father, Green Hayes...both father and son are the real deal.
-- Richard D. Smith

Bluegrass Now
Rick Hayes... stretches his musical wings with his new CD,
Fly By Night
. He gets musical backup from some of the best in the business, including Jim Van Cleve, Clay Hess, Ron Stewart, Josh Swift and Eric and Leigh Gibson. Each song provides the ensemble ample opportunity to show off the energy and passion that exemplify bluegrass.
...Hayes' commendable repertoire includes material by Marty Stuart, Clay Hess, Eric Gibson, Mark Cole and Tim O'Brien, as well as a couple of traditional tunes. ...Rick and the other accomplished musicians on this CD will both entertain and inspire you to sing and play along. --Nancy Jones
Bluegrass Music Profiles
Rick does a fantastic job on mandolin, guitar and bass throughout the recording.
-- Hal Cottrell
California Bluegrass Association
Rick Hayes is the mandolin player in the Gibson Brothers band and his trademark licks and fills are part of that band's great sound Rick makes his own Hayes brand of mandolin and the rich tone and crisp sound can easily be heard on his solo breaks...Good solid contemporary country bluegrass!
-- Brenda Hough